AIE Heavy Fuel Rotary Engine Meets Rigorous Testing Standard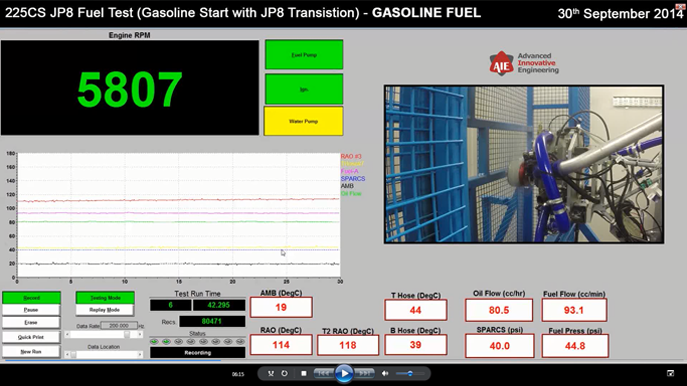 Lichfield, Staffordshire: When it comes to UAV propulsion, the Wankel rotary engine has many advantages compared to reciprocating engines. Its smooth low vibration operation, compact and lightweight size make it an ideal choice as a propulsion system.
However, the strong preference for use of heavy fuels within the aerospace industry and for military operated UAVs can often render the Wankel rotary engine inadequate as it fails to deliver the efficiencies required from use of heavy fuels including the popular JP-8… that was until today.
Advanced Innovative Engineering (UK) Ltd have recently developed an ingenious rotary engine that utilises patented SPARCS cooling technology for increased efficiency and reliability, and has recently undergone testing to run as a heavy fuel rotary engine for UAVs, VTOL and RPAS.
Testing the 225CS Heavy Fuel Rotary Engine
Expertly connected to AIE's advanced computer data acquisition systems and positioned within a state-of-the-art prop test cell at AIE facilities in Lichfield, Staffordshire, the testing of the 225CS heavy fuel rotary engine would turn out to be a momentous day for rotary engine propulsion.
With heavy fuel JP-8 kindly supplied by the US Airforce for the purposes of the initial test sequence, the 225CS engine was powered up and JP-8 fuel transitioned to the engine. The engine responded with amazing results. As the Wankel engine underwent various performance range tests, engine power continued to remain optimal and responsive to the throttle as shown in the video evidence of the 225CS heavy fuel rotary engine performance.
With the flexibility of a powerful but lightweight multi-fuel engine, the 225CS will be a reliable option for both commercial and military use; providing the opportunity for a greater payload to carry more fuel and improving efficiencies for a lower total cost of ownership.
Further testing and development will ensure that this heavy fuel rotary engine which benefits from patented cooling systems and cutting-edge designs will deliver the high-end capabilities for use in UAV platforms and unmanned ground vehicles.
For more details on AIE's heavy fuel Wankel rotary engines, visit https://www.aieuk.com/products/ or contact AIE on 01543 420700.
Recent Posts