AIE's Unrivalled Rotary Engine at Engine Expo 2014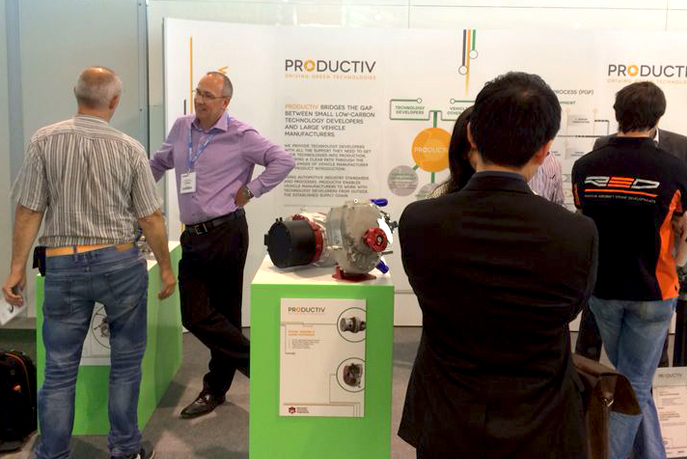 Advanced Innovative Engineering (UK) Ltd had the ideal platform to display their world class rotary engine at the Engine Expo held in Stuttgart, Germany on June 24 – 26 2014.
Over 4,500 visitors from around the world gathered at the must-attend event in the heartland of the automotive industry. Â  Engine Expo expertly brings together OEMs and new technologies to showcase cutting-edge design concepts and innovation and is the apotheosis of collaboration.
This was perfectly illustrated at the Productiv exhibition stand.  Productiv was founded in 2011 and bridges the gap between small enterprises developing new low-carbon technology and large vehicle manufacturers.
For engineers looking for the way forward in green technologies they needed to look no further than Productiv's Proving Factory®.  As a collaborative project with TATA steel, The Proving Factory gives clear proof to manufacturers how concept technologies are transformed from design and pre-production through to tested, volume production.
The Proving Factory exhibited AIE's world class 225CS rotary engine and CREEV exhaust expander unit.  Innovative, patented SPARCS (Self-Pressurising-Air Rotor Cooling System) technology redefines AIE Wankel rotary engines to deliver a clean and compact rotary engine that is unrivalled in power for its size.  The 225CS rotary engine generates a 40bhp output but weighs only 10kg.  Along with its ease of integration, the 225CS rotary engine is the perfect choice for engineers developing a range of vehicles, from unmanned ground vehicles to high performance motorsports.
Combine that with AIE's rotary exhaust expander unit CREEV (Compound Rotary Engine for Electric Vehicles) and you receive an even more exciting development solution.
Historically, application of traditional rotary engines has been limited due to high exhaust energy, heat and emissions but the unique CREEV exhaust expander unit changes all that. The new technology delivers the solution with reduced noise, increased efficiency and a cleaner exhaust for an environmentally friendly solution.  CREEV technology also opens up application opportunities for rotary engines to be used within low carbon vehicles.
The Proving Factory demonstrated that this cutting-edge technology has already gone through the process stages of manufacture and assembly and is ready for mainstream factory production.  The Proving Factory's state-of-the-art facilities gave confidence to the vehicle manufacturers attending the event.  The process evidences that products are built to rigorous standardisation in manufacture and guarantee that all end-consumer standards are met.
The Engine Expo collaboration with Productiv demonstrated the perfect symbiosis of AIE's 225CS Rotary Engine with both pioneering and mainstream motor-manufacture for the future.
AIE specialise in design and development of efficient and powerful rotary engines for a wide range of aerospace, marine and automotive applications.  For detailed information about the 225CS rotary engine with CREEV expander unit that AIE displayed at Engine Expo 2014 see, www.aieuk.com/products.
Recent Posts