AIE Share Successes at NVN Symposium 2014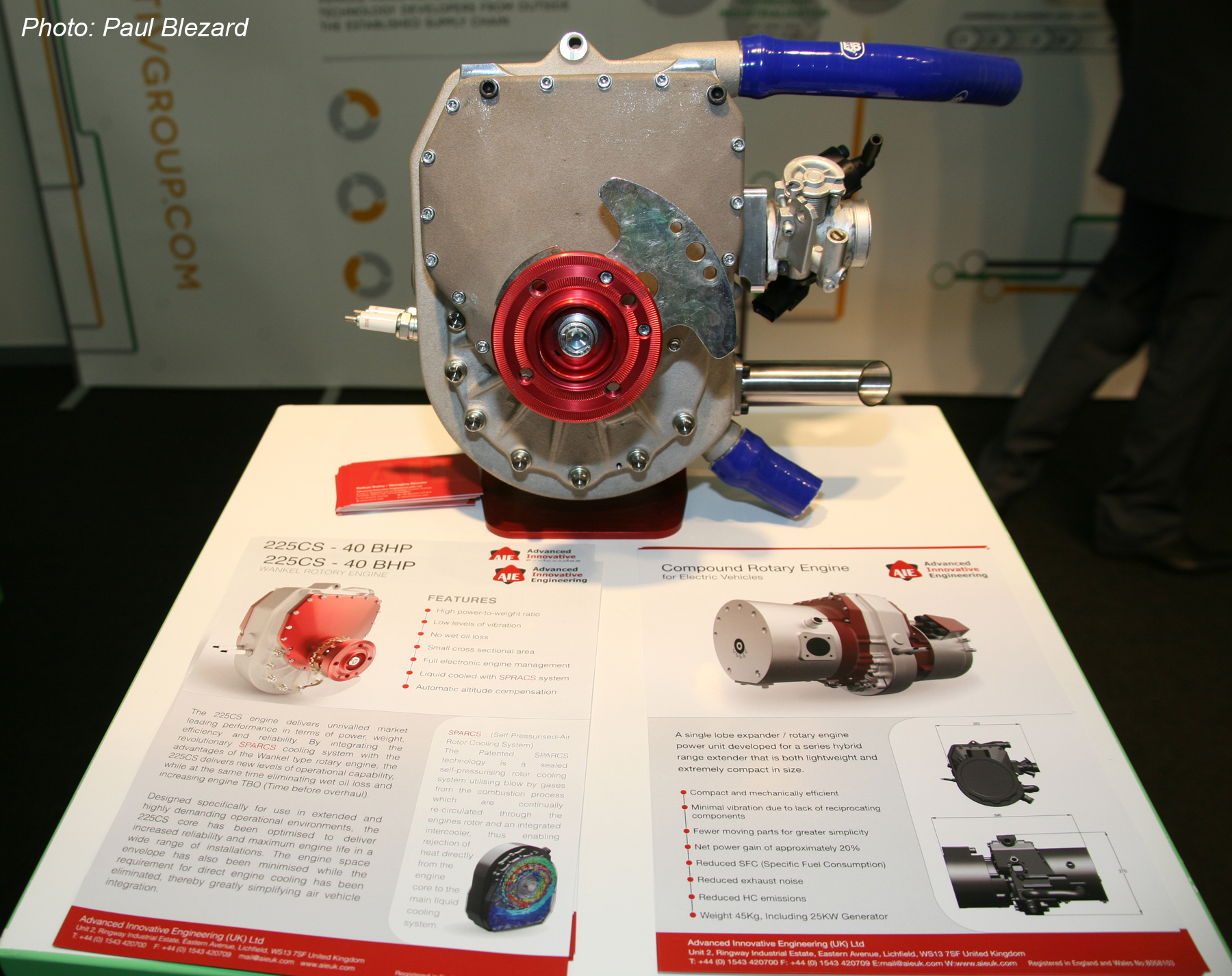 Advanced propulsion technologies were some of the latest innovations highlighted at the Niche Vehicle Network Symposium 2014 which took place this year on the 18th March at the Heritage Motor Centre at Gaydon, UK.
The impressive event was opened by John Wood, Chairman of the Niche Vehicle Network association who welcomed over 180 delegates; bringing together the most diverse cluster of niche vehicle manufacturers and specialist technologies in the world.
The aim of NVN is to promote the development and application of new technologies and materials to increase market opportunities for low carbon vehicles.
Brand New Rotary Engine Technology
The section of the programme devoted to advanced propulsion technology included a presentation by AIE Managing Director Nathan Bailey, unveiling exciting new developments for engine design.
The presentation demonstrated the benefits of AIE's patented Compact Self Pressurised Air Rotor Cooling System (SPARCS) over standard rotary engine technology along with the concept of using a compound exhaust expander unit to improve the efficiency and emissions of the Wankel rotary engine.
The challenge for AIE was in overcoming the poor fuel consumption, high emissions and loud exhaust noise usually associated with rotary engines.  Bailey highlighted that the issue of these previously axiomatic engine flaws must be addressed if they are to be used within low carbon automotive applications.
AIE's latest project, CREEV – a Compound Rotary Engine for Electric Vehicles, brought the solution.  The patented, intelligent design of the rotary exhaust expander unit uses a 1-lobed, 2-flanked expander to harness additional energy from the exhaust emissions that would otherwise be lost.  This increased efficiency provides the added benefit of a cleaner exhaust with lower carbon emissions and reduced overall engine noise.  Truly an engine that is the perfect choice for low carbon vehicles.
Shared Benefits of Collaboration
It was especially pertinent for AIE to showcase these new technological developments at the NVN Symposium as the funding previously awarded to AIE by NVN has enabled the computational thermal and structural studies needed to prove the feasibility of the design concept.
This valuable demonstration of the success of the NVN Symposium collaboration bodes well for further exciting new partnerships for AIE in the future.
You can read more information on the revolutionary technology used in SPARCS, Compact SPARCS and CREEV at www.aieuk.com/technologies.  Or keep up to date with the latest projects from AIE on Twitter @aieukltd.
Recent Posts