AIE Awarded Standard of Excellence for Quality Management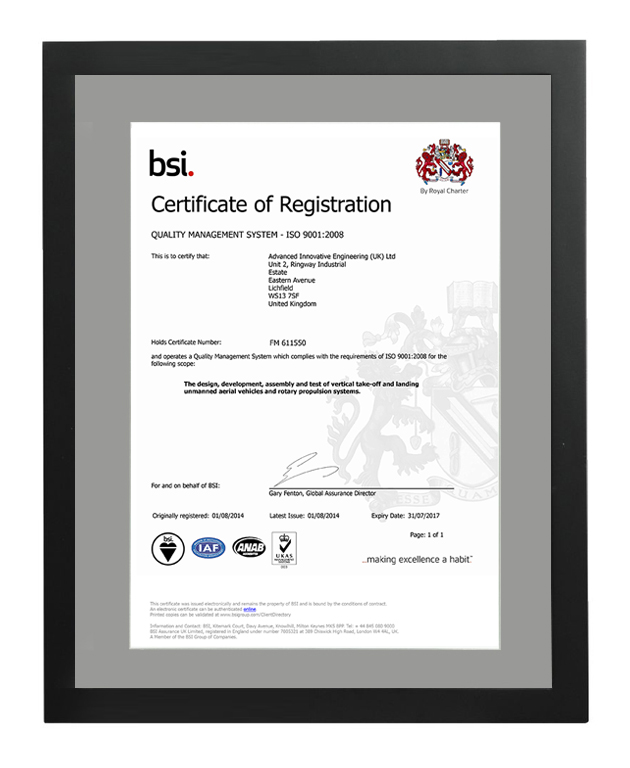 Lichfield, Staffordshire: Advanced Innovative Engineering are delighted to announce that following assessment from an independent organisation, AIE (UK) Ltd have been accredited with the ISO 9001:2008 Quality Management Standard.
The ISO standard was awarded by BSI.  The BSI company was incorporated by Royal Charter which it holds to this day and is the world's most globally recognised quality standard.  It's easily identifiable kitemark has provided reassurance of quality for over 100 years.
The BSI ISO 9001 standard outlines a strict Quality Management System (QMS) that is to be adhered to.  Accreditation means that after being independently evaluated for competence and performance capabilities AIE (UK) Ltd have met the required standard and operate at the very highest levels of quality and service.
AIE (UK) Ltd are thrilled to have their quality and professionalism recognised with the award.  Only two years after business formation, to pass the ISO 9001 standard with no non-conformances is an amazing achievement and is testament to the dedication of the team at AIE to get things right first time.
The ISO 9001 standard requires ongoing implementation and promotes a culture of continual improvement and innovation so it is a natural fit with the mindset of everyone at AIE.
BSI state that AIE (UK) Ltd operate a QMS which complies with the ISO 9001:2008 standard for: "The design, development, assembly and test of vertical take-off and landing unmanned aerial vehicles and rotary propulsion systems."
 Their certification is much more than just a piece of paper.  BSI have recognised that Advanced Innovative Engineering (UK) Ltd products and services comply to the very highest of standards.   This gives confidence to all trading partners that AIE (UK) Ltd are reliable and efficient, have an exemplary reputation and are excellent communicators.
AIE (UK) Ltd are proud to now have documented evidence showing their commitment to the consistently high standard of products and services that every client receives.
If you would like to know more about Advanced Innovative Engineering (UK) Ltd or require an initial consultation for your business get in touch via the contacts page.
Recent Posts